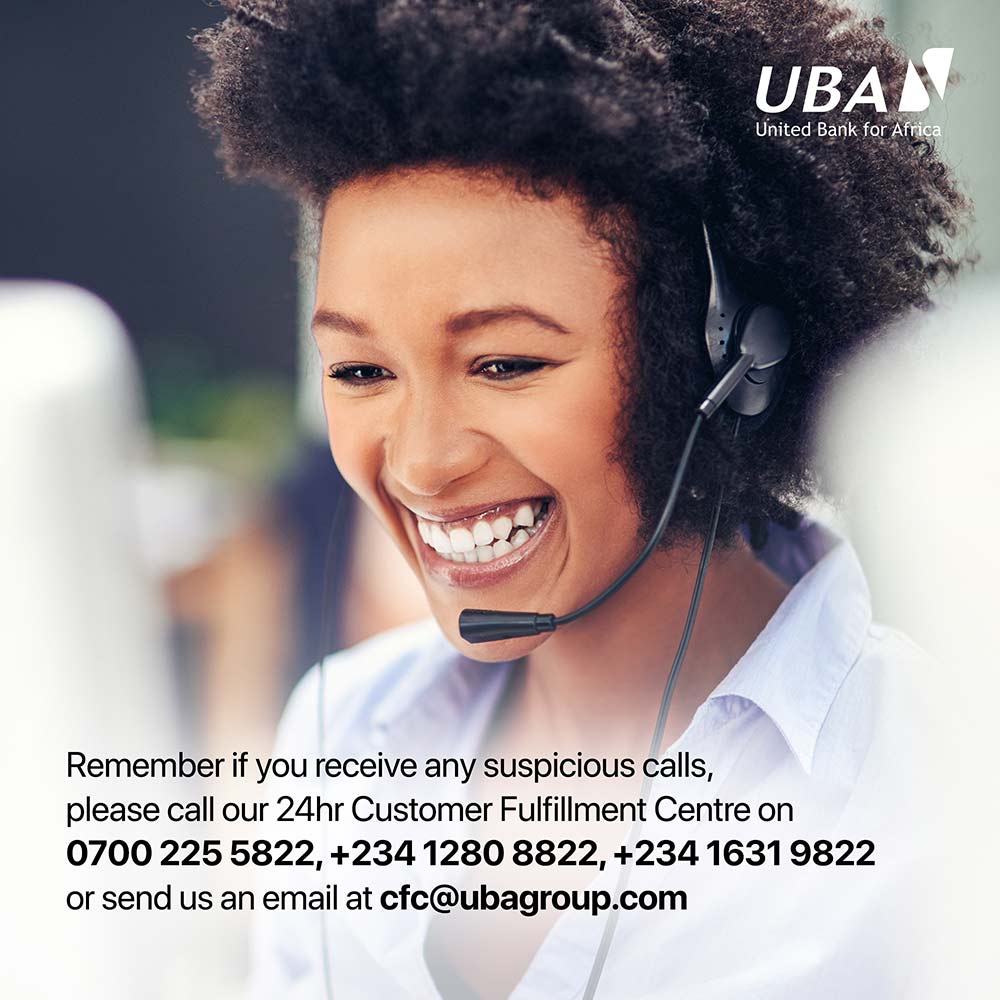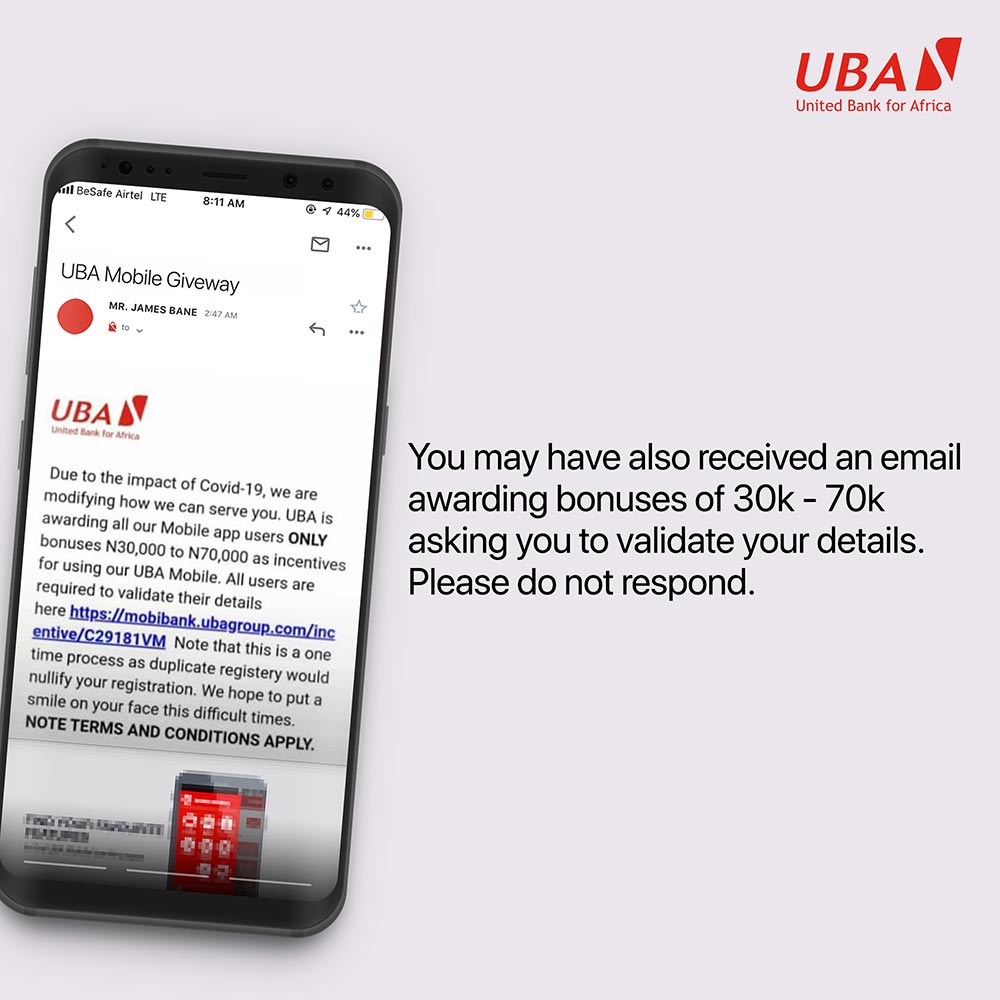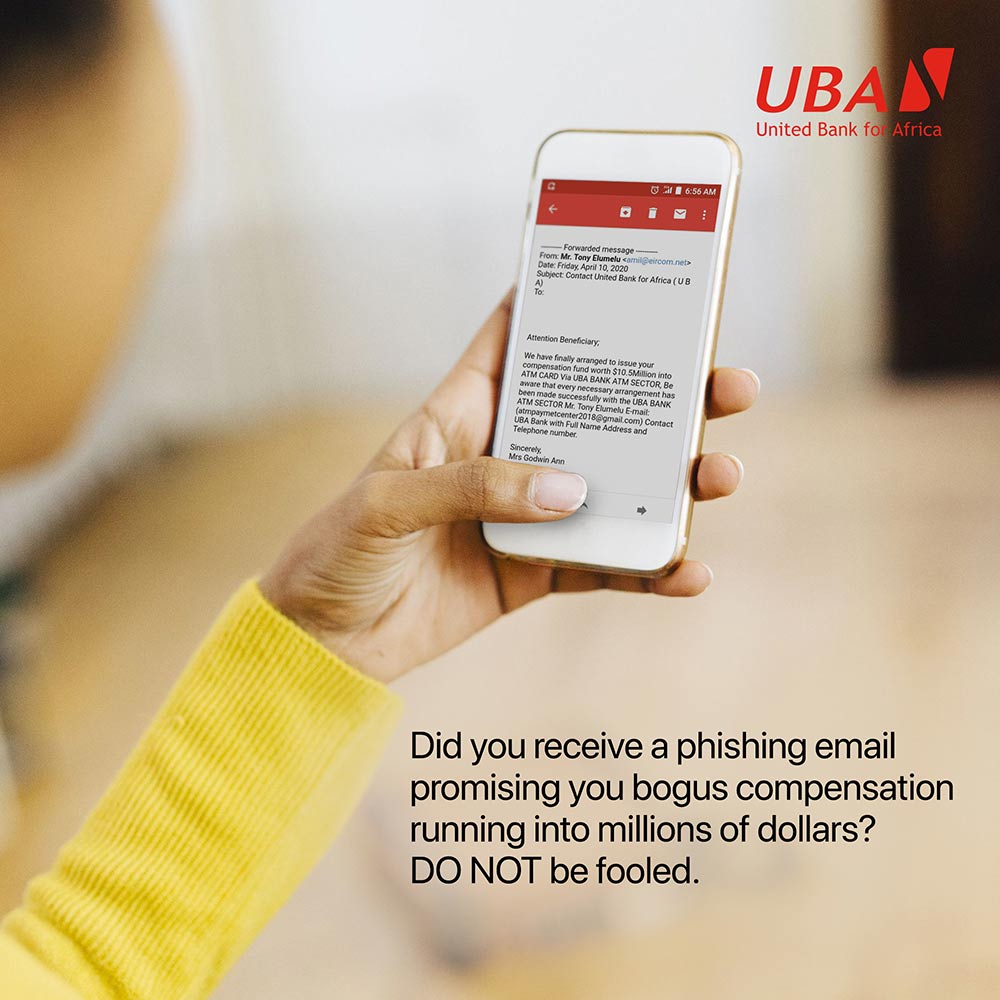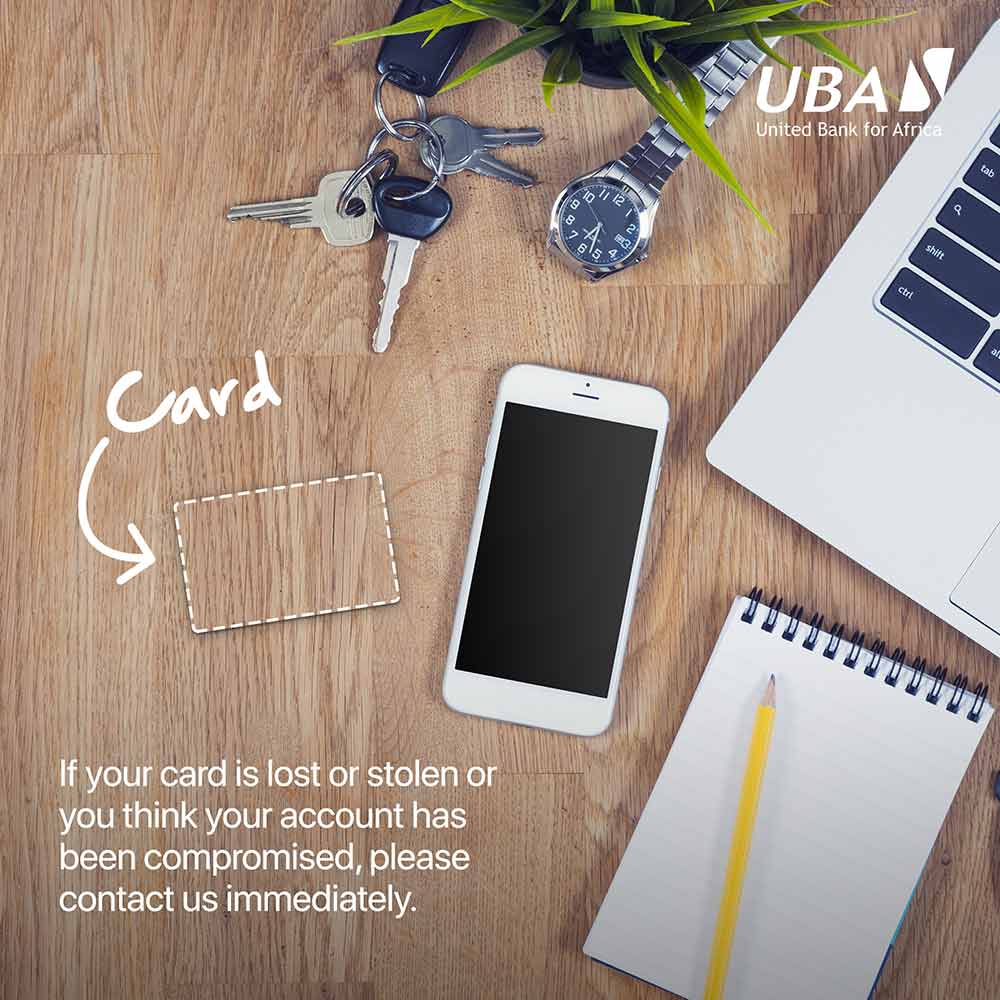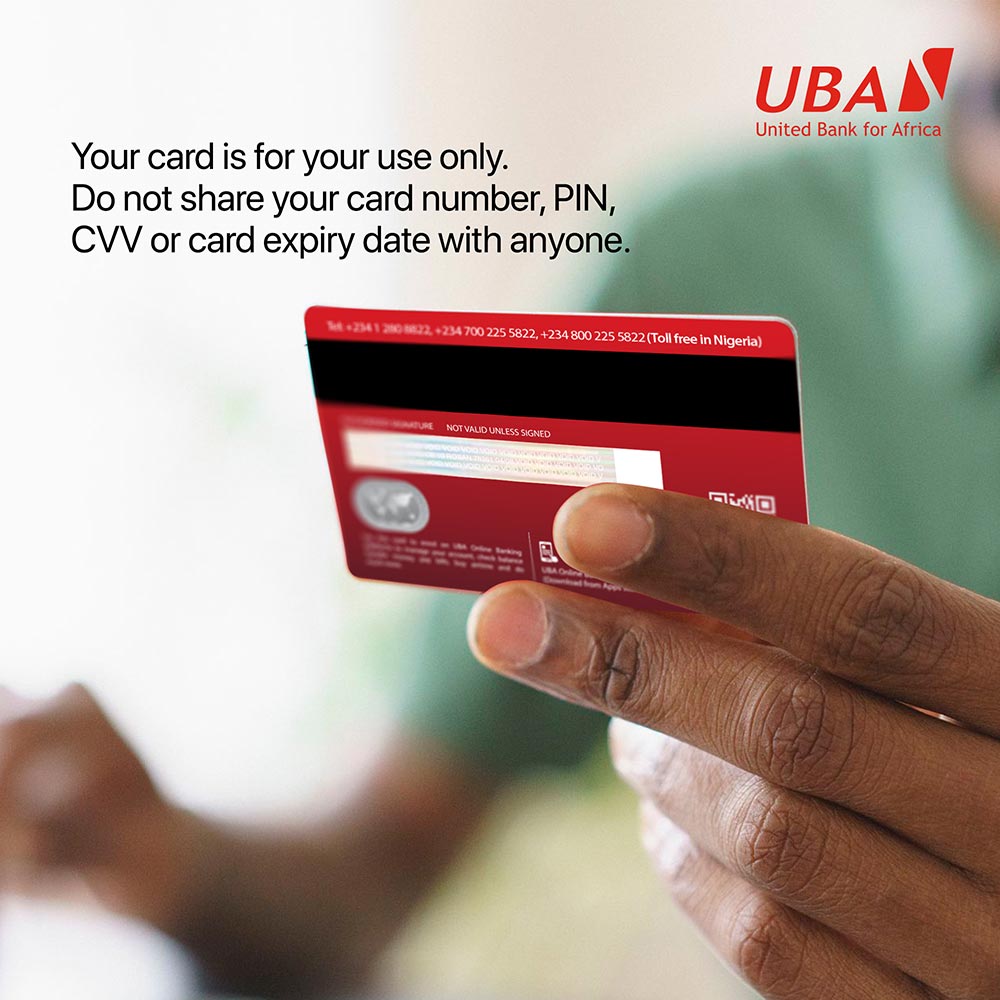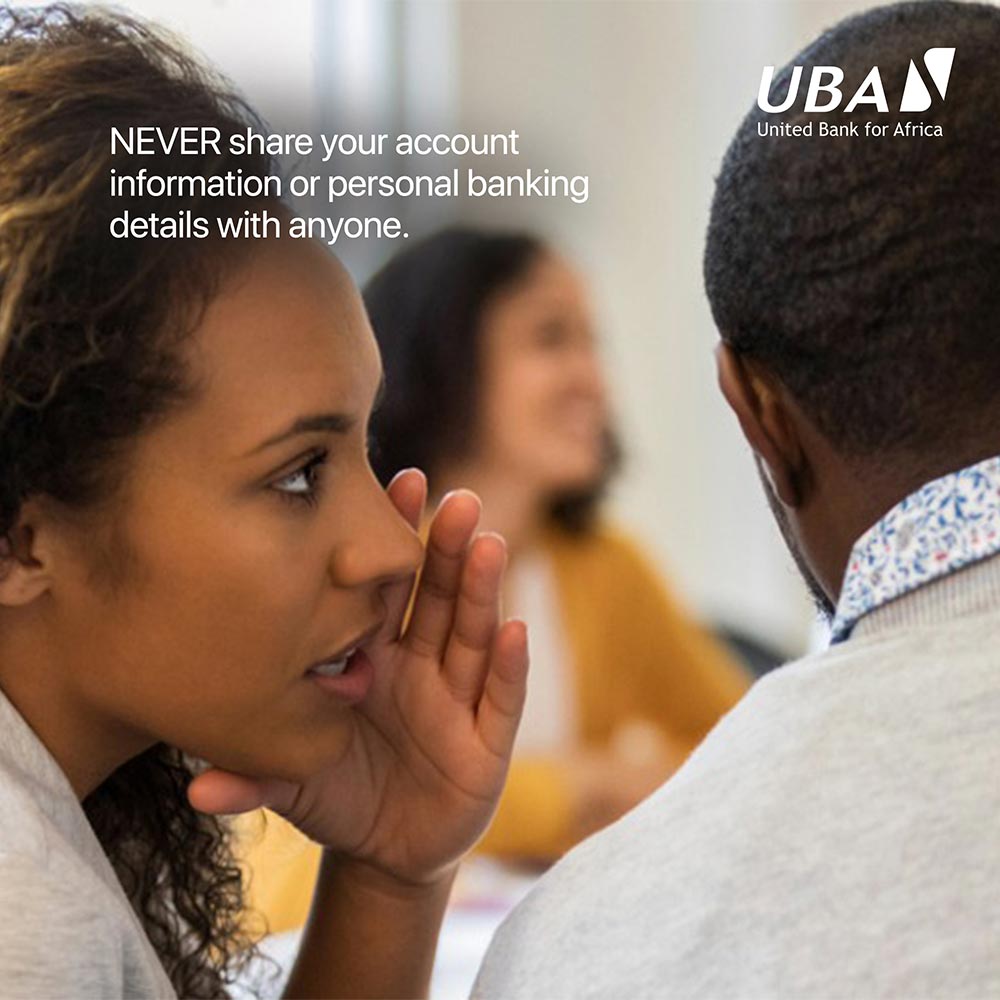 Please protect your personal information
UBA will not request you to provide confidential information on a website or by clicking a link
We have observed an increase in attempts by fraudsters to deceive customers into divulging confidential information such as passwords, secret questions and answers, etc via fraudulent transaction notification emails.
PLEASE NOTE THAT UBA WILL NOT REQUEST YOU TO PROVIDE SUCH CONFIDENTIAL INFORMATION ON A WEBSITE OR BY CLICKING A LINK.
If you receive such emails requesting you to click on a link to view a transaction or to update your personal information; kindly ignore the mail.
We list some activities below that we perform in order to safeguard your data and some tips that you can follow to protect your security.
• We employ industry-proven standards and technologies to protect information in our computing environment.
• We protect our systems and networks from the Internet with Firewall systems.
• We use 128-bit SSL encryption technology to protect sensitive information that is transmitted over the Internet.
• We maintain a Global Digital Certificate signed by Verisign® that assures you are, in fact, communicating directly with UBA Bank.
• We control access to your information inside our company by limiting employee access to systems and data.
• Protect your username and password. Avoid choosing easily guessed words or numbers. Avoid writing your Sign In information in a place where others can view it.
• Use the "Sign Out" button to Sign Out from Online Account Access upon completion of your session and close your browser.
• Do not use email for account-specific questions. Email is not normally encrypted and your account information could be intercepted.
• Review your statement information regularly for unauthorized transactions.
• Phishing is an internet scam (spoof) in the form of an email or pop-up box. The emails and pop-ups link to sites that look like well-known legitimate businesses and ask you to provide and confirm personal, financial, or password information.
• Legitimate businesses do not ask for this information unless you initiate a request for a service. Please DO NOT RESPOND to these emails requesting personal identity, accounts or password information.
• Scam emails often contain misspelled words, poor grammar, awkward or unprofessional writing and typos.
• Be suspicious of urgent or alarming appeals that request security information.
• If you believe you have received a phishing email that claims to be from UBA Bank forward the suspicious email to cfc@ubagroup.com
• To learn other ways to avoid email scams and deal with deceptive spam visit the Federal Trade Commission site at www.ftc.gov/spam

We create accounts tailored to your individual needs as a valued customer and are constantly developing new products and services.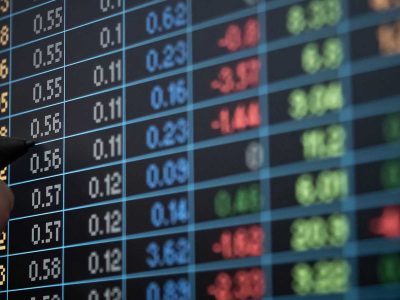 Online Security Frequently Asked Questions
What is Phishing?
Phishing is the use of bogus emails and websites to trick people into supplying confidential or personal information. Typically, you receive an email that appears to come from a reputable organization such as a bank.